Paul H. Cook, O.D.
Meet Dr. Paul H Cook, a primary care optometrist at Summit Vision Source specializing in eye disease and eye injury.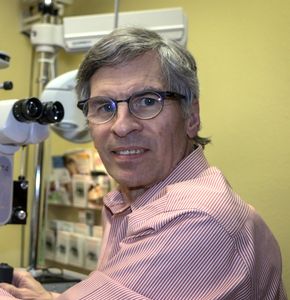 Dr. Paul H. Cook is a Primary Care Optometrist. In addition to routine eye care, he treats eye injuries and diseases. He specializes in treating glaucoma, diabetic eye care, cataracts, macular degeneration, and dry eye disease.
Wofford College in South Carolina is where he received his undergraduate degree in Biology followed by Optometry School at The Southern College of Optometry in Tennessee.
Dr. Cook moved to Colorado when he was ready to leave the south. He chose to live in Summit County for the same reason so many of us do; ready for the next adventure with family and friends or going to the next optometric convention.
He is married to Karen with whom he shares life, which includes being the parents of five children.
Testimonial about Dr. Cook:
"I highly recommend Dr.Cook. After speaking to him on the phone on Christmas Eve about my eye symptoms he recommended that I should be seen. We met at his office on Christmas Day. He gave me a thorough examination and explained everything that was going on with my vision. He has the best and most up to date equipment. A truly caring physician came to the rescue to this tourist in need."